Hair Troll
Abilities

Fling

Regeneration

Attack Type
-Troll Rend
Damage Taken Modifiers
Ice:
-40%
Fire:
+20%
Troll:
+25%
Hair Trolls are resilient units that have red eyes, sharp claws and teeth, and lots of hair.
Hair Trolls regenerate health every turn, which, along with their good defense, makes them very tanky units. They are useful on the front-line, where they can take hits for their allies, and disrupt the enemy's position with their occasional throw over their shoulder.
Abilities and Attributes
[
]
Hair Trolls regenerate 2-6 health on their turn.
They naturally have higher health and defense than most units.
When attacking, they can launch their target up to two hexes behind them.

The unit will land in a random 1 hex radius behind the troll.
Unlike with the Cyclops, launching enemy units does not apply the Slow effect.

Hair trolls take up 2 slots in the player's team.
Interactions
[
]
All Trolls do bonus damage to other Trolls (this includes Troll Moms and their babies).
Hair Trolls have ice resistance.
They take bonus damage from Fire damage.
Strategy
[
]
Playing with:

Observe how the opponent wants to approach your troll. Some players ignore them, others focus them down, others try to keep them incapacitated. If they try to ignore your troll, make sure to place it in a defensive position to soak up damage from more vulnerable units. Don't overestimate their tanking ability, however, aim to have your troll alive as long as possible to have their regeneration work for as long as you can.
Their fling ability is disruptive both for the enemy and you. Even if Hair Trolls have low move priority, they may fling enemies out of position and cause your own units to miss their attack. Therefore, always try to stall trolls by making them move around to their intended hex, so they attack last. Also, be careful not to fling enemies over to your backline!
If the enemy also has a troll, try to keep yours on theirs to keep the pressure up and so their troll doesn't have more health than yours in late game.
Playing against:
Their regenerating ability and their high defense means taking down a Troll takes a lot of time or focus fire. It is generally suggested to kill enemy trolls last, allowing you to kill other units first.
Weak to fire, Pixies can be an effective unit to handle Hair Trolls, as the inital shot will deal increased damage and the aftermath damage will damage them further if they do not escape the flames.
Cosmetics
[
]
Cosmetic items you can give the Hair Troll to change their look. Hair Trolls are a creature with purely Cosmetic Items, with none of them affecting stats or resistances. Hair Troll has 1 cosmetic category, Head.
There are 28 total Head Cosmetics in the Live Version of the game.
Head Page 1

Basic Troll

Fancy

Weird

Cool

Investigative

Toro

Cooks you 1st

Plumage

Prankster

Radar

9 Volt

Keiser Roll

Shell Shock

Gold Tips

Messy

Aloof

Blue Ballcap

Green Ballcap

Honor

Sleepy
Head Page 2

Savage

Uniter

Here Comes

It was

PlasticShades

MuchGlamour

Can Hear You

Snot A Hat
Journal Entry
[
]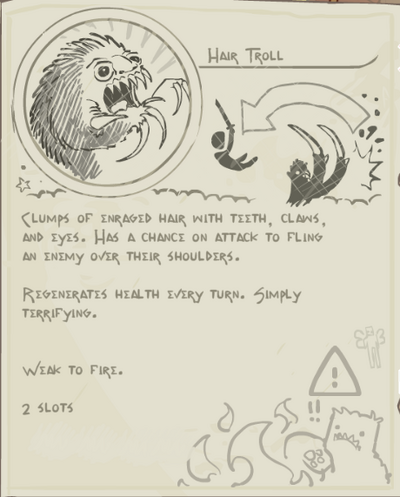 Notable Characters
[
]
Detective Hardboil
Trivia
[
]
Hair Trolls seem to be a form of the trolls in another Behemoth game, Castle Crashers.
The Trolls' ability to regenerate health is similar to the Troll Animal Orb in Castle Crashers which heals the player over time.
Bonus damage against other trolls was added in development to prevent matches from getting too long due to their healing.
References
[
]
Gallery
[
]