Mascot
Abilities

Buff

Fire

Explosive

Attack Type
-Peck
Damage Taken Modifiers
Poison:
+33%
Lightning:
+33%
Mascots are characters that inspire team members with their music (find, buy or fight for special instruments and costumes) and will get certain boosts from the mascot, when close to it. When a Mascot is close to the death, as a final hurrah this fighter explodes, harming those around them. The Mascot might take others with itself, too![1] It can be strategic, to let a mascot low on health just go and harm enemies in a final blow.
Abilities and Attributes
[
]
Mascots boost defense, attack, accuracy and healing of adjacent teammates.

If the teammate is a Cupcake, the amount of health they replenish will be increased

Mascots can attack by pecking enemies in melee range. They peck up to four times, switching between targets, and for 2 damage per peck.
On death, a Mascot will explode and deal massive (30-60) damage to all units around it, with a chance to ignite fires.
Strategy
[
]
Playing with: If you're playing with a mascot, it's best for the team that you keep all your units around it, maximizing the units that the mascot buffs. This can be dangerous against units with area of effect damage, such as Pixies, Mortars and Rainbow Horses, so try to keep units that don't need the buff away from it when against these. Keep units standing around its front to stop melee fighters from attacking it, because you will be losing out on a lot of stats when it goes down, and the explosion that follows it can really harm your team.
You can also build a team with a solid front-line of shield units, Hair Trolls and/or Cyclopses, and keep the mascot back with one or two ranged units. The mascot will be safe and will provide the ranged units with a huge boost in accuracy and damage, which will allow them to hit far more shots on the enemy, less on your team, and they'll hit very hard.
Finally, the explosion on death can be utilized to your advantage. When it gets low on health, keep it out of combat and wait for an opportunity to get the mascot by itself between multiple units. Hopefully, the units shall all descend upon the mascot, only to take insanely high explosive damage after taking it out.
Playing against: In any game, the supportive units are always your first targets. When you come across a team with a mascot, whack it whenever there's a single opening around it. If you have ranged units, it'll be much harder for them to keep it safe. Area of effect damage is also very helpful, as they'll be punished for attempting to utilise the mascot. Hair Trolls and Cyclopses, units that knock enemies out of position, can be very helpful for tearing the opponents strategy apart, as not only will they be torn away from their allies, but their stats will be lowered a hefty amount as well. This will also create an opening to attack the mascot itself. Try to kill the mascot while it's near enemies, and try to use a ranged attack to kill it. You don't want to lose your units to an easily avoided explosion.
Interactions
[
]
The buff boosts the healing strength of Cupcakes.
Buffs do not stack from multiple mascots.
Debuffed units will not receive the buff. (?)
Mascots buff the Spidaur on which they are mounted.
If adjacent to a Mascot, both the Spidaur and its rider receive the buff.
Rainbow horse horns left on the field will get the damage bonus if a mascot was buffing the rainbow horse while it exploded.
Cosmetics
[
]
Cosmetic items you can give the Mascot to change their look. Mascots are a creature with purely Cosmetic Items, with none of them affecting stats or resistances. Mascots has 2 cosmetic categories, Bodies and Backs.
There are 29 total Body Cosmetics in the Live Version of the game.
Bodies Page 1

Base Flavor

ChillyCharmer

The Original

Bully in Blue

Theater Shark

LeapingLizard

Totally Teddy

ManeSqueeze

Booster Ben

Snail

Tricerastops

Mantiroar

TheaterGuard

Bipolar Bear

ChocolateBud

Glorxdon

BunBun

Ellie

That'sNotMom

Mini Wraith
Bodies Page 2

24 K

TheBehemoth

EatYourCrops

Delicious

Frog, I guess?

Jerk Buddy

Ursa Minor

Wolf Wolf

Sheep Shape
There are 23 total Back Cosmetics in the Live Version of the game.
Backs Page 1

GoMarchingIn

Highlander

Tubular Tuba

DrumOfDeath

Whatsamcalit

Amp

Violin

Beastly

Electro

Learning

Honor Tribe

Boom Box

Extra Bass

Extra Treble

Extra Drums

Portable

Angelic

Coordinator

Lion House

Hawk
Backs Page 2

Swiss House

Death House

Baby Rattle

-
Journal Entry
[
]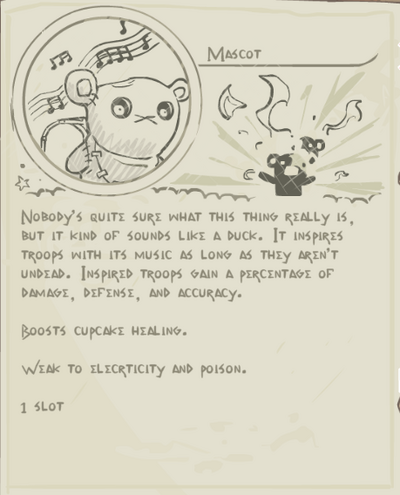 Notable Characters
[
]
Frostwaddle: Leader of the Fireman (Side-quest: Attack of the Fireman, recruit-able on the final mission)
Preston Shill: Bandleader (Open-world Side-quest, can be recruited)
Ursa Minor: (Main Quest: The Bear, can be recruited)
Tricerastops: (Open-world Side-quest, complete the quest to recruit)
Corey: (Open-world Side-quest, can be recruited)
Trivia
[
]
At one point in development, they used to be leprechauns.
The theater shark cosmetic is a reference to battleblock theater
The original is a reference to the cardinal animal orb from Castle Crashers
References
[
]
Gallery
[
]