Mrs. Sarsaparilla
Mrs. Sarsaparilla
Details

Race

Gorgon
Mrs. Sarsaparilla is a Gorgon, captured by Fib Feelgood, the greedy brother of Glib Feelgood. Fib Feelgood captured Sarsaparilla to use her snake hair for his secret Snake Oil business.
She appears to be trapped by Fib in his refinery, where he hits her hair to spawn snakes to crush for his Snake Oil rig.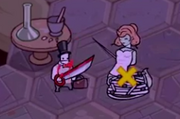 After you kill Fib Feelgood, his brother Glib states he will take over the Snake Oil company by storm. Sarsaparilla denies to work with Glib, and says she will create her own company called "Sassy's Tonic Gorgonic."
Her business slogan would be called "A Snake Oil by Gorgons, for Gorgons."