Jurassic World: Dominion Dominates Fandom Wikis - The Loop
Play Sound
Octoclops
Abilities

Confusion

Ink Swap

Attack Type
-Ink Shot
Damage Taken Modifiers
Octoclops are floating, one-eyed creatures with a tentacle tail. They are most often found near the sea and beaches, though many other parties do contain them. The 'octo' comes from the fact that they have an 8-segmented brain and are based off of octopuses.
Abilities and Attributes
[
]
Octoclopes will attack with an ink projectile from 2 tiles away that can't be blocked, which has a chance to either confuse or ink swap the target.

Inked enemies have their team color changed to the octoclops' for the duration of the enemy's turn. The said unit will not be able to act that turn and will be considered an enemy unit by it's own team: they may be targetted by their allies with their attacks and Cupcakes and Gnomes will not heal them. However, they won't be healed by the enemy either.
The confused effect is more common. While confused, the enemy keeps control of their unit, but that unit may target allies as if they were opponents.

Octoclopes are flying units.
Interactions
[
]
Octoclops does bonus damage to other Octoclops.
Strategy
[
]
Playing With:
Playing with the Octoclops requires good positioning and targeting. As it has low health, it should almost never be on the front line. Target the enemy's strongest creatures to give the best chance of either the creature hitting its own team or getting hit by its own team.
Playing Against:
As the Octoclops Abilities can severely impacts your team's ability to fight properly, it is generally a good idea to try to focus down this creature. Octoclopes do extra damage against each other, so if you have one on your team you can use yours to deny the other one it's abilities and damage it.
Cosmetics
[
]
Cosmetic items you can give the Octoclops to change their look. Octoclops are a creature with purely Cosmetic Items, with none of them affecting stats or resistances. Octoclops has 1 cosmetic category, Bodies.
There are 42 total Body Cosmetics in the Live Version of the game.
Bodies Page 1

Neutral

Waiter

Unnecessary

Octo Cop

Inker

SecretService

Monoclops

Wannabe

Apparatus

Wise Guy

Sun Hanky

Sun Scarf

Bad Dog

Grey Hoodie

Turq Hoodie

Pink Hoodie

Blue Hoodie

mLady

Baby Band

Dad's Gone
Bodies Page 2

Dad Promoted

ClosetMonster

Octo Pest

Wizardry

Witchery

Stickup

Burgle

KeepingWarm

Beanie

Red Beanie

Blue Beanie

Pink Beanie

Choices

Dreamer

Pink Bow

Blue Bow

Mustachio

Pie Guy

Quadraclops

Octoclops
Bodies Page 3

Antisocial

Cheered For

-

-
Journal Entry
[
]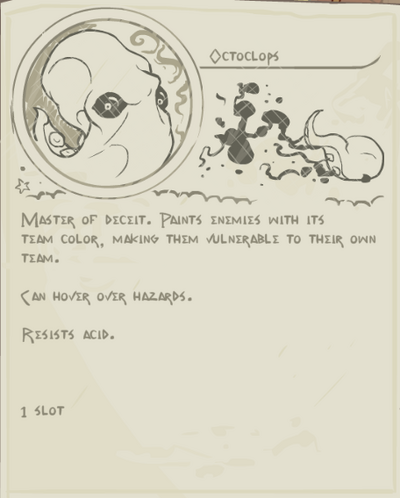 Notable Characters
[
]
Trivia
[
]
They actually have 2 eyes (like shown on Sofia's Journal) but their mastery of deceit tricks even the official art.
References
[
]
Gallery
[
]