Rainbow Horse
Abilities

Explosive

Attack Type
-Horn Launch
-Rainbow Explosion
Damage Taken Modifiers
Not to be confused with unicorns, which do not exist. Rainbow Horses are back line artillery units which can deal massive but unreliable damage to groups of enemies.
Rainbow Horses are ranged units that throw their own horns as projectiles. If not blocked, these projectiles eventually explode in a colorful and deadly manner. Rainbow Horses have no moves for close combat, and should be protected by their team.
The survival guide states: "Don't let their light-hearted demeanor fool you. They launch regenerative exploding horns from atop their brow. Also, they don't always explode..."
Abilities and Attributes
[
]
Rainbow Horses attack by shooting their horn at enemies 6 to 8 hexes away, which can be blocked by shields.
They will prioritize enemies 7 hexes away, then enemies 6 hexes away, and finally enemies 8 hexes away.
They cannot target enemies closer than 6 hexes, even in melee.
When their horn hits a unit or the ground, it will randomly either explode on contact or lodge itself in the ground.

The horn stays in the ground while emiting a colorful pulse. After a few rounds, the horn will explode during the Horse's team's attack phase. The longer the horn stays in the ground, the more damage it will deal.
While the horn itself doesn't deal much damage, the explosion deals large damage in the center and a few hits around it.
Interactions
[
]
The Explosion of the horn deals +50% bonus damage to Wraiths.
Horns are sharp projectile, which deal bonus damage to Vampiresses.
Strategy
[
]
Playing with:
Rainbow horses do not lose damage when they move, unlike mortar humans. They also don't take bonus damage from kobolds and will still attack enemies 6-8 tiles away even if an enemy is within them in melee range. However, they are completely defenseless in melee and have a significant chance to miss, unlike Mortar humans.

A rainbow horse next to a mascot will fire horns with consistently high accuracy, and the explosion's damage will receive a significant boost.
That being said, unlike Mortars, Rainbow Horse's horns can effectively lay traps upon impact, as the implanted horn can go off at any turn thereafter.
Playing against:
Being the majestic rainbow spewing, but loafing creature it is, it is fairly weak to any form of close ranged attack, and will go down easily with a few good smacks to the head.

Sitting all the way in the back, it is recommended to have Kobolds run around the front lines with their superior movement, or use Gnomes to launch others over the front lines to get to the Rainbow Horse's position.
Cosmetics
[
]
Cosmetic items you can give the Rainbow Horse to change their look. Rainbow Horses are a creature with purely Cosmetic Items, with none of them affecting stats or resistances. Rainbow Horses has 1 cosmetic category, Manes.
There are 25 total Mane Cosmetics in the Live Version of the game.
Note: At least 1 more Mane has been confirmed for Release.
Mane Page 1

Striped Hair

Zeeb

Saddle

Festivity

Stately

The Cone

Ultra Fluff

Lion's

Scruffed

Well Kepted

Combed Up

Roller

Juiced

Pegasus

Minty

Holiday Spirit

Spectrum

Phoenix

Ammo

Neon
Mane Page 2

Sturdy Blue

Disturbing

Lighting

Angular

Blue Ribbon
Journal Entry
[
]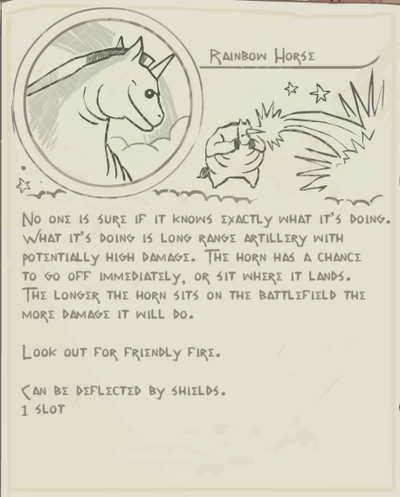 Notable Characters
[
]
Trivia
[
]
The exploding horn leaves a colorful doodle on the ground, ranging from stars and hearts to smiling faces.
Less (or more) adorably, Horses smear tracks of poo with bright colored speckles on the ground when they move.
References
[
]
Gallery
[
]