Wraith
Abilities

Debuff

Explosive

Attack Type
-Skull Spit
-Scythe Swipe
Damage Taken Modifiers
Rainbows:
+50%
Lightning:
-50%
Acid:
-35%
Wraiths are deadly spirits and they also can be members of a team! They come with the ability to cross over hazards in the terrain. In a fight, they can send out a projectile and weaken opponents in their attacks. In close range, the wraith is able to perform a single swipe. The wraith is resistant to poison and electricity, but rainbow horse's ranged attack will hurt Wraiths more than other fighters!
Abilities and Attributes
[
]
Target enemies 2-3 hexes away with a projectile that may hit a secondary adjacent unit for half damage and may debuff units. Unlike most ranged units, wraiths will prioritize enemies further away.
Melee attack has a 20% chance of applying debuff.
Wraiths are flying units.
No melee damage penalty. Their scythe swing may also debuff, but much less often.
Wraiths have a high resistance to Electricity.
Interactions
[
]
Strategy
[
]
Playing with:
Wraiths make a good semi-offensive support unit. They have good movement, fly and have the best range of the three close-combat flying magical units (Electrobots/Pixies). Their damage and health aren't that good, but the debuff makes up for it. The Skull Spit Area of Effect is random, try not to hit your own units with it! Since they prefer attack enemies farther away, they are useful for sniping enemies hiding behind other units.
Wraiths are good against Electrobots, taking almost no electric damage. Debuffing Vampiresses mean they will damage less and leech less health. Also, Vampiresses can't leech health off of Wraiths, even though Cupcakes can heal them.
Playing against:
Rainbow Horse shots do bonus damage, but aren't accurate. Mobbing a Wraith is your best bet, as it suffers in close quarters.
Cosmetics
[
]
Cosmetic items you can give the Wraith to change their look. Wraiths are a creature with purely Cosmetic Items, with none of them affecting stats or resistances. Wraiths has 2 cosmetic categories, Mask and Belts.
There are 50 total Mask Cosmetics in the Live Version of the game.
Mask Page 1

Simple

Wraith-Like

Tunnel Vision

Sir Lichington

Plague Doctor

Kinda Cute

Kills for Sport

Can't See

Kinda Grim

Eye see you

It's Makeup

Bad Breath

Not so Certain

Very Certain

Happy One

From Moon

Hypnowraith

Oni Baby

Oni Bro

Tengu
Mask Page 2

Cash

LockabyeBaby

Keyhole

Elephantom

ALERT

OR IS IT

The Sad One

Intentions

Hickory

Oh look at this

SomethinSaid

Lucious

Nightmare

DayDream

Black Dots

Pathological

Steel Mcgee

Riveting

Myrtle

Fertile
Mask Page 3

Turtle

Regret

Pirhana

Froglike

River Stix

HELLO

Minotaur

Eye Soar

Buck

Arrrr!
There are 22 total Belt Cosmetics in the Live Version of the game.
Belt Page 1

Naked

Burly Belt

Festive

Space Marine

OfficerDebuph

Pumped Up

Waiting

My Hero

Role Model

Champion

Centurion

Patootsie

Dealer

Fancy Lad

Bare Chested

Demonic

Napkin

Berlin

Rome

Patriot
Belt Page 2

Apprentice

Dare Devil

-

-
Journal Entry
[
]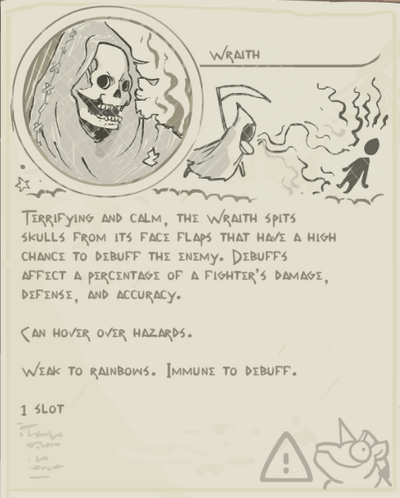 Notable Characters
[
]
Sid the Necromancer
The Necroduke
Rattlegasp
Primo
Soulslurp
Trivia
[
]
Also, little known fact, but the life essence of other beings tastes like strawberry jam to a wraith. (Yum!)[1]
There was a Silver Lock Cosmetic called "CHANGING THIS ART" in before update 4, which was changed to the current "Elephantom" Mask.
The "Arrrr!" Mask cosmetic has a alternate look in no gore mode.
References
[
]
Gallery
[
]